Surface texture of a hardwood floor can add a lot to the atmosphere for a particular room. It can accentuate the elegance or add to the warmth of a more casual setting. There are a few different surface textures available when it comes to prefinished hardwood flooring. The top four are: smooth, handscraped, distressed and wirebrushed.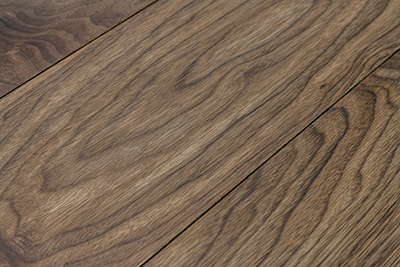 Smooth.
The most popular surface texture we see in prefinished hardwood flooring is a smooth surface. This is our most subtle surface texture.

Wire Brushed
Hardwood floor which is wirebrushed offers a middle ground texture between smooth and handscraped. The wirebrushing process is just as it sounds; the finish is lightly scraped with a wirebrush, creating long and linear strokes. This wirebrushed texture really accentuates linear grain patterns, like that of oak flooring and it makes a hardwood floor a little bit more interesting than if it had just a smooth surface.

Hand scraped edge
Hand scraped edge, the most popular edge treatment for hand scraped floors. The edge is gently eased by hand and rolls into the face of the plank for a very refined casual elegance. Works well with any species or scraping technique.

Hand Scraped
This textures can be anywhere from subtle to extreme. There are several indentations and, overall, the board surfaces have a wave like appearance created with the wood scrapers. Handscraped hardwood flooring definitely brings a more casual look to a room, adding warmth, comfort and a lived-in ambiance. The more handscraped texture a hardwood floor has, the more it will hide scratches and dents. Lots of homeowners with larger dogs in their households opt for a handscraped texture in their hardwood floors simply because wear and tear is more easily concealed.

Hand Scraped Footworn
As floors are walked on, the softer grains are worn away more quickly than the denser grains, creating distinctive undulating patterns. Also, if boards are uneven in height, the taller boards will show more foot wear. Using custom tools, our craftsmen recreate these subtle patterns typical of Colonial floors that have been trod upon for centuries.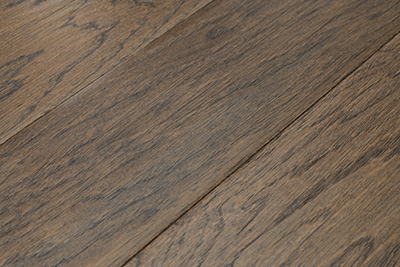 Hand Scraped Chattering Campeche
Hand scraped wood floors are a modern trend that can give a room old time warmth and atmosphere. The style gets its name from the once-common technique of using a draw knife to scrape a plank into smoothness. The woodworker pulls the draw knife, a single blade with a handle at either end, toward himself to remove shavings to make an even surface. This process leaves scrape marks that were once typical of wood flooring.

Time worn
As time passes and floors become naturally worn by both time and the people who walk on them, the natural wood grain creates distinguishing patterns. Using a proprietary process, our craftsmen recreate these natural patterns typical of new England floors that have been lived on for more than three lifetimes.

Custom Texture
When we say we can create almost any look, we mean it. We make each custom floor to meet your most special needs. We can customize the texture if one of our current styles will not work. Contact us to speak with Mattera Specialist and we can develop a solution for your project.